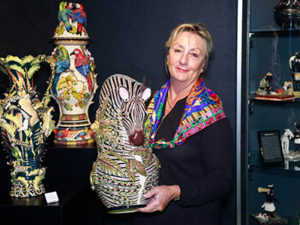 Fée Halsted, the founder and artistic director of Ardmore in South Africa, opened our new Ardmore gallery last month. Guests at our WMODA Wednesday evening and at our Sunday Tea with a Twist party enjoyed Fée's accounts of her remarkable life creating ceramic art with the Zulu people. She explained how the artists at Ardmore work collaboratively in the spirit of Ubuntu, meaning "we are because of others".
The quirky humor of the South African artists has made Ardmore one of the most popular exhibits at WMODA. Visitors can't help smiling when they encounter giant hippos, giraffes and crocodiles being ridden by intrepid travelers. They are also in awe of the intricate sculpting and painting skills used to decorate monumental Ardmore vases with exotic flora and fauna.
The distinctive Ardmore designs have been discovered recently by Hermès of Paris, who are making luxurious silk scarves and beach wear. The first two designs are now hard to find but a new Ardmore scarf will be launched in June. Thank you to Hermès for donating a Zambezi scarf to the WMODA exhibition. You can hear more about Ardmore and Hermès in this new BBC video. The French luxury brand inspired by African ceramic art.
Cole & Son, English manufacturers of wall paper since 1875, are now launching a new Ardmore collection and some of the patterns made their debut in the new WMODA gallery.   From regal leopards to mischievous monkeys in lush rainforests, the new wallpaper collection captures the exuberant spirit of Africa. Thank you to Cole & Son for generously donating a selection of the new wallpapers to the WMODA exhibition.  Visit the www.cole-and-son.com to see the complete collection.
Come and see our new Ardmore gallery anytime Monday to Friday 10am to 5pm. Our next special Saturday opening in on February 11 from 10am to 5pm. Or join us at our next WMODA Wednesday evening opening on February 8 from 6 to 8.30pm.