THE GENIUS OF WEDGWOOD
Josiah Wedgwood established his first factory in Burslem, Staffordshire in 1759 and his marketing genius, production methods, and technical innovations soon made him a household name. By 1768, he had perfected his Black Basalt ware, an un-glazed stoneware body which he used for vases and wall plaques decorated with relief-figured motifs of mythological subjects from classical antiquity. In a letter of 1769, Josiah Wedgwood announced his ambition to be "vase maker general to the universe."
WEDGWOOD BLUE
Wedgwood's most famous invention was Jasper ware, a dense white stoneware body which was stained with metal oxides to produce a wide range of colors. After several years of experimentation, by 1776 Josiah Wedgwood had perfected the iconic dusty blue shade named after him. Jasper ware has been made continuously to the present day in many different shades with white relief-figured ornaments in neo-classical style.  In 1786, Josiah Wedgwood borrowed the celebrated Portland vase, an ancient Roman cameo glass vessel, for reproduction at his factory. Three years later, his highly-publicized copy of the Portland Vase promoted his new Jasper ware to a discerning clientele.
SHOPPING FOR WEDGWOOD
Wedgwood's pioneering London showroom was patronized by fashionable society and transformed the way that pottery was marketed and sold. Shopping for Wedgwood in Jane Austen's time would have been a familiar experience today. Josiah Wedgwood and his partner Thomas Bentley established one of the very first china shops where affluent customers could browse and select tableware and ornaments in elegant surroundings, rather than at street markets.  Wedgwood also introduced traveling salesmen to journey nation-wide gathering orders with catalogs and samples.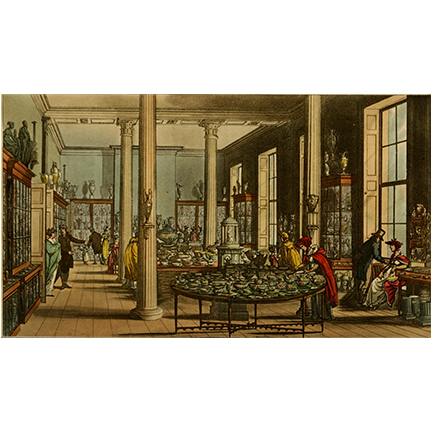 ART & INDUSTRY
In the mid-19th century, ceramic manufacturers commissioned distinguished sculptors to work in the new statuary porcelain body, known as Parian ware.  In 1848, Wedgwood launched their similar Carrara ware body, named after the Italian marble. The popularity of white statuary porcelain was surpassed by the colorful Majolica glazes introduced by Minton at the Great Exhibition of 1851. Wedgwood's Majolica designs followed in 1860 and were widely used for all types of practical and ornamental purposes in the Victorian home.
FIT FOR A QUEEN
Wedgwood's acclaimed Queens ware body was an ideal 'canvas' for ceramic artists, such as Emile Lessore.  Originally an artist in oil and watercolor, Lessore expanded into pottery painting at the Sèvres factory. He migrated to Staffordshire in 1858 where he worked initially for the Minton factory. At Wedgwood from 1860, he enjoyed the artistic freedom that he craved painting on Queen's ware. His unique work received many accolades and he was awarded a variety of medals at international exhibitions in London, Paris, and Vienna.
 FAIRYLAND LUSTRE
In the early 1900s, Wedgwood perfected a range of iridescent liquid luster glazes, which could be painted on-glaze. These glimmering rainbow glazes were decorated with scenes of Fairyland by designer Daisy Makeig-Jones and launched in 1915.  Faith in fairies flourished in the roaring twenties and ensured success for Daisy's fantasy forests with fairies, goblins, trees and cobwebs outlined in gold. Popularity for Fairyland Lustre waned after the Wall Street Crash of 1929 and Daisy was asked to retire from Wedgwood. After an acrimonious meeting in 1931, she stormed out ordering her assistant to smash all the work in her studio. Today Fairyland Lustre ware is as elusive as the fairies themselves.