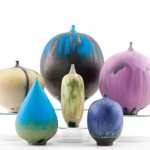 In case you don't know, Rose Cabat is the oldest practicing ceramic artist in the United States (she turned 100 on June 27).
Here in SoFlo, Dania Beach's Wiener Museum of Decorative Arts (WMODA) is comemorating her birthday with an exhibit of her "feelies" porcelain pots with satin glazes in jewel colors she creates in her Arizona studio.
The name of the series is derived from the organic spherical forms and soft sheen glaze "that begs to be touched," according to Louise Irvine, WMODA'sexecutive director."Rose is a star of the mid-century Modern movement. She is an American treasure, as are her works, and we're pleased to share them with South Florida."
The exhibit runs now through August.