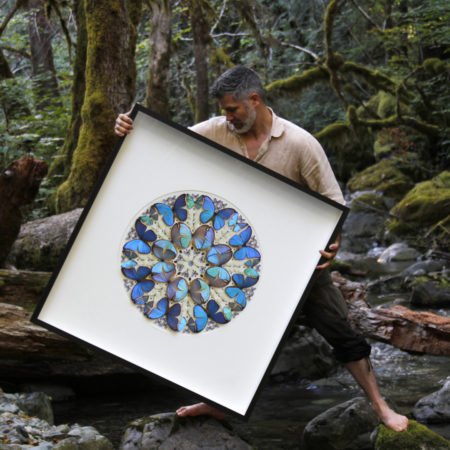 The Christopher Marley ǀ Biophilia exhibition at the Wiener Museum of Decorative Arts continues the artist dialogue with art, nature and science with highlights from the museum's extensive collection of ceramics and glass. Biophilia means love of life which Marley demonstrates with his lovingly preserved specimens of butterflies, birds, reptiles and sea creatures. At WMODA, they are presented in the context of the four classical elements of earth, air, fire and water, which ancient philosophers believed were the fundamental building blocks of nature. Biophilia – the Elements also explores how the four elements of earth, air, fire and water have been harnessed and transformed to create the Fired Arts of ceramics and glass.
Biophilia – The Elements is presented in the style of a Renaissance Cabinet of Curiosities, encyclopedic collections of natural and man-made objects which are the precursors of the modern museum. Marley's splendid curiosities of nature are juxtaposed and connected with the Fired Arts at WMODA. A caiman is mounted beside a crazy crocodile rider from Ardmore ceramic art in South Africa. Porcelain butterfly dancers from Europe rival the fragile and floating beauty of Christopher's butterfly art and exotic snake dancers evoke the sensual appeal of these reptiles, which have the power to repel or to charm. The element of water is evoked by Chihuly's spectacular glass art, including his organic Macchias and Seaforms, accented with writhing tendrils and tentacles.
Christopher Marley Biophilia – The Elements  is open at WMODA from December 6, 2017 to March 31, 2018.
Monday to Friday 10am to 5pm. $10 tickets include general admission to the museum.