Discover the artistry behind the decorative arts during our WMODA After Dark event on March 7th. Watch expert artists and craftsmen at work as they demonstrate the skills involved in throwing and hand-painting pottery, fusing glass, and making silver jewelry.
Consider whether you would like to try making a work of art at one of our upcoming WMODA classes. In the meantime record your evening's experiences on your smartphone with coaching from an expert photographer.
Find out more about our special guests artists below. Selections of their work will be for sale that evening to raise funds for continuing educational projects at WMODA.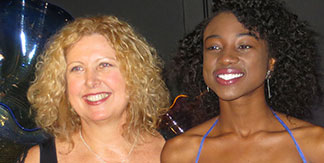 Chelsea Rousso is a glass artist, fashion designer, and writer, as well as a teacher at the Art Institute of Fort Lauderdale. She specializes in kiln-formed fused glass and holds regular classes for aspiring glass artists at her own studio and at the Wiener Museum.