January 22, 2017 2:00-5:00 pm
Guest experienced a tea party with a twist at WMODA on January 22nd, 2017 when we welcomed Fée Halsted, the founding artist of Ardmore Ceramic Art to South Florida. Fee told her remarkable story about creating ceramic art with the Zulu people while a relaxing afternoon tea was enjoyed in the spectacular setting of our Chihuly gallery. Whimsical Ardmore teapots adorned with safari animals contrast dramatically with the elegant English china in our Art of Tea exhibition and our imaginations were fired by the spirit of Africa at this unique occasion.
See more about the history of Whimsical Teapots…
$50 per person*
Advanced paid reservations required, for more information please call us at 954-376-6690 or email us at info@wmoda.com
*Proceeds to benefit WMODA educational programs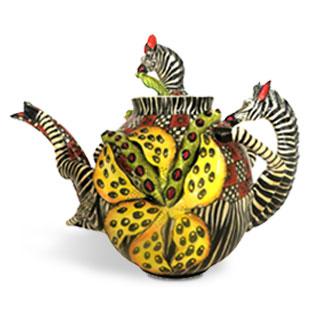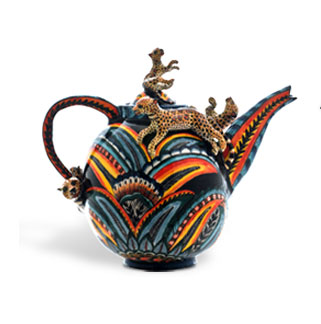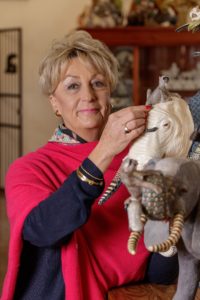 Come and hear about Fée Halsted's remarkable life creating ceramic art with the Zulu people. Fée has been nurturing artistic talent at Ardmore in South Africa since 1985 and has taught more than a hundred people to create unique art pottery featuring exotic animals and birds. Fée mentors the artists and guides the evolution of each piece of Ardmore, which is individually sculpted and hand-painted in exuberant color.
Fée is a passionate award-winning artist and teacher, who has been recognized globally for her humanitarian work as well as her art. In the 1990s, the AIDS pandemic devastated the Ardmore studio and many of the first artists died.  A monumental Ardmore ewer, commemorating the legacy of these remarkable artists, will be unveiled by Fée during her visit to WMODA.
See more about the Ardmore Commemorative Ewer…
Fée continues to work tirelessly to provide education and medication for the Ardmore community and was honored by Women's Campaign International in New York for her "inspirational work" in empowering the women of KwaZulu-Natal. Previous honorees include Hillary Clinton and Joe Biden. In 2015 Fée was awarded an Honorary Doctorate from the University of KZN in Pietermaritzburg for her contribution to uplifting rural communities.