A Century of Porcelain Supermodels
Fashionistas will love A Flair for Fashion at the Wiener Museum of Decorative Arts. From knights and damsels to roaring twenties flappers, this fabulous exhibition features figure sculptures and ceramic art made by Europe's leading pottery and porcelain companies. Fantasy costumes made by students at the Art Institute of Fort Lauderdale complete this exhibition of catwalk couture through the ages.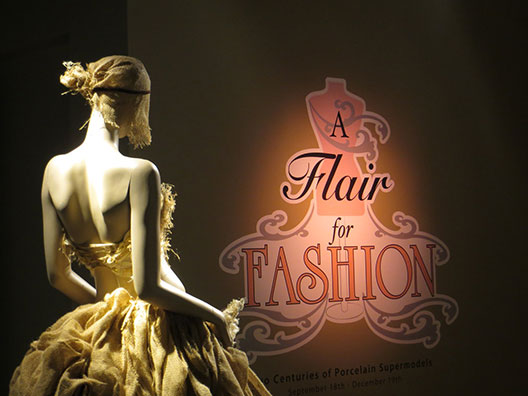 Bathing Beauties
Sun bathing at the seaside or the lido became a fashionable leisure activity in the 1920s and a glowing bronzed skin was in vogue after centuries of cultivating a pale complexion. Influenced by America, the younger generation abandoned their mother's voluminous bathing dresses and sported the new figure-hugging swim suits with natty stripes and polka dots. Come see all the bathing beauties in our A Flair for Fashion exhibition. More on the swimwear history…
Wearable Glass
Corsets and bikini tops made of kiln-formed fused glass are the specialty of Chelsea Rousso, who is a glass artist, fashion designer and writer, as well as a teacher at the Art Institute of Fort Lauderdale. Chelsea combines her love of fashion and glass into a unique form of wearable art and her models have appeared many times on the catwalk at WMODA. One of the challenges she faced with creating wearable glass was developing a technique that followed the form of the female body. Chelsea also creates unique sculptures with ribbons of glass woven and fused into beautiful silhouettes.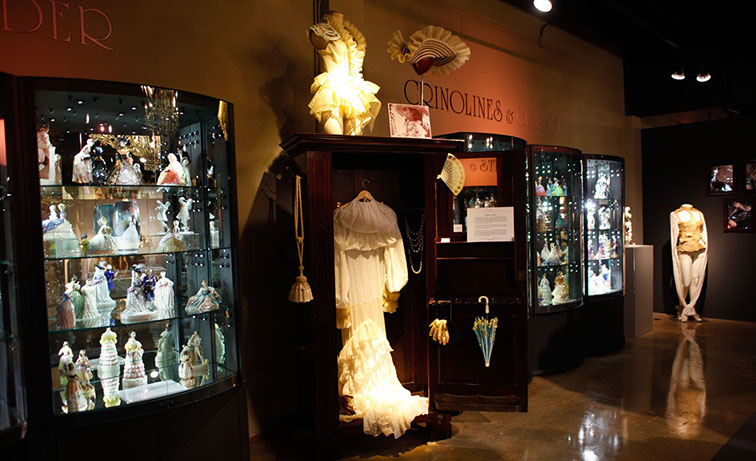 Wearable Wedgwood
In the late 1950s, Wedgwood made some shoe heels for the H & M Rayne shoe company, suppliers of footwear to HM Queen Elizabeth. They made Her Majesty's wedding shoes in 1947 and a decade later Edward Rayne came up with the idea of Jasperware high heels. Wedgwood's in-house magazine of 1958 talks about the exhaustive trials that were necessary before the first batch was delivered to H & M Rayne for fashion shows in America at the New York's Plaza Hotel and the National Shoe Fair in Chicago. More styles made their debut in 1959 and again in 1977 when the shoe heels were reintroduced in shades of primrose, pale blue, lilac and sage green, like the one at WMODA. Vogue magazine in March 1979 shows some strappy sandals with Wedgwood heels, featuring one of their Zephyr bas-relief ornaments. The Zephyr relief was first modeled by Thomas Stothard for Wedgwood in the 1780s.