The Carnival continues at WMODA during our Venetian Masquerade party on Wednesday, February 7th. Friends of WMODA are invited to join us for a fun-packed WMODA Wednesday evening from 6pm to 8.30pm. There will be prizes for the most beautiful masks worn by guests.
View our latest exhibition Carnival & Cabaret curated by Louise Irvine, Executive Director of WMODA
Hear about the artistry behind the Carnival in Venice porcelain masterpiece from Enrique Campos of Lladró
Experience the Magic of Murano at our new exhibit of Venetian glass curated by Sergio Gnesin.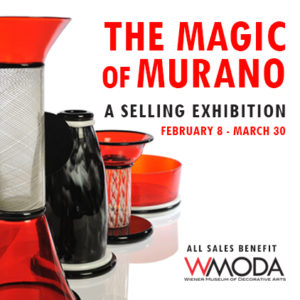 See the Venetian style glass masks created by Chelsea Rousso and find out how to make your own at our upcoming WMODA class.
Select pieces of Lladró and Venetian glass will be for sale that evening to support educational programs at WMODA.
Wine for the evening is sponsored by Barefoot Wine.
Call now for your complimentary VIP invitation to the opening night preview on February 7th
954-376-6690 or email info@wmoda.com
Sponsored by: