Friday, April 27th – 1:00pm to 3:30pm
Join us on #MuseumWeek and make your own silver jewelry using precious metal clay techniques with Lori Brown on Friday, April 27 in the Chihuly gallery at WMODA Museum.
Its amazing what you can create with no previous experience using silver metal clay, which looks and feels like putty, and is fired and shined to make gleaming 99% silver jewelry. Interesting textures can be achieved with molds, stamps and textures. Unleash your inner creativity and sparkle and shine with your own designs for pendants, pins or earrings.
Lori is a talented all round designer excelling in precious metals and fused glass. Her glass designs were exhibited in A Touch of Glass at WMODA in 2017 and her silver jewelry for the Edgehill Designs label is sold in the museum shop.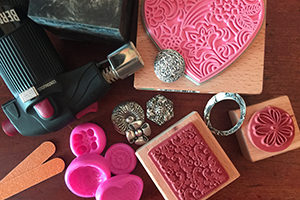 The cost of the class is $100 which includes 2 ½ hours expert instruction plus fine silver metal clay and other materials.
Spaces are limited. Advance booking is required.
Call WMODA for reservations 954.376.6690
Proceeds benefit the educational programs at WMODA.